By Dug Begley and St. John Barned-Smith
Multimedia by Godofredo VasquezThe risk surrounds us, moves with us, passes us. It follows us on the way to work, to school, to church. We see it coming in the rear-view mirror.
A pickup plows into the back of a helpless car at 100 mph in northwest Harris County, killing two. A 17-year-old loses control on a narrow rural road in Fort Bend County, strikes a power pole and lands in a cornfield, pronounced dead at a hospital.
GET THE JUSTICE & COMPENSATION YOU DESERVECONTACT HEARD LAW FIRM TODAY
Filling out this form does not create an attorney-client relationship with Heard Law Firm. It is simply to put you in contact with our firm so that we can evaluate your potential claim. Do not provide any information that you consider confidential and would not want disclosed to third parties. If you would like to speak with us confidentially, please call us at 713-665-1100.
---
*** Are you a new client? Yes, I am a potential new client No, I am a current existing client I'm neither *https://www.google.com/recaptcha/api2/anchor?ar=1&k=6LefwnQUAAAAAFuSMkWnX5aO5lJbx0mx9Yi8r0lo&co=aHR0cHM6Ly93d3cuaGVhcmRsYXdmaXJtLmNvbTo0NDM.&hl=en&v=1B_yv3CBEV10KtI2HJ6eEXhJ&size=normal&cb=4v6zvad13cxrREQUEST CONSULTATION
Speed killsAmong the 12 largest metro areas, Houston trails only Dallas in deaths per capita caused by speeding from 2001 through 2016, a Chronicle analysis shows.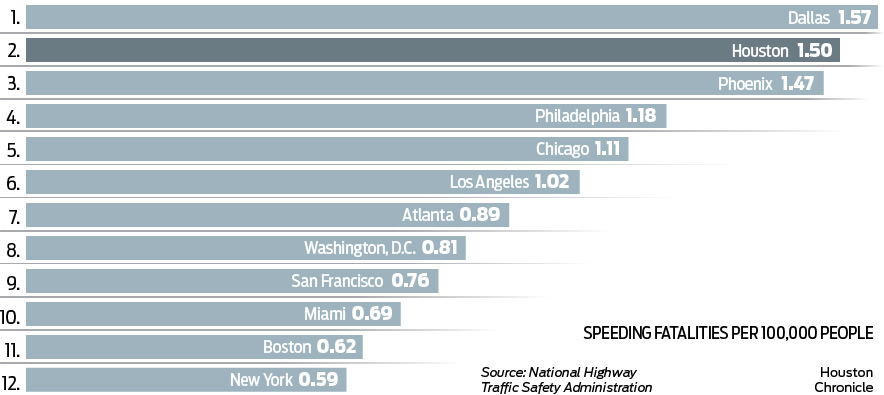 'A good kid'
"Behind all these stats are people," said Robert Wunderlich, director of the Texas A&M Transportation Institute Center for Traffic Safety. "Moms and sons and daughters."
The tragedies behind the accidents have sunk in for David Mills and his wife, Wendy. Their daughter didn't come home from a Halloween party last year.
Kailee Mills, 16, had taken off her seat belt so she could take a selfie with a friend seated in the back of the large SUV. The teenage boy behind the wheel was a friend and, like Kailee, "a good kid," her father recalled.
As they left the Millses' subdivision nestled in trees between the Grand Parkway and FM 2920 a couple of miles south of The Woodlands, he and Kailee made the mistakes that teenagers often make: She unbuckled her seat belt, and he was driving too fast.
"When he got onto Rothwood, he gunned it and was speeding," David Mills said. The police report estimated a speed of 66 mph when the vehicle left the roadway.
A problem everywhereCompiled on a map, the 4,603 fatal crashes on Houston area roads since 2010 leave few parts of the region untouched by a deadly wreck.https://chronpremium.carto.com/builder/1e54c16f-e758-4a2d-8d88-bed469b8fbb8/embedSource: | Created by Dug Begley and Rachael Gleason
Rothwood has a 30-mph limit. Snaking past industrial properties, its two lanes wind and curve with little warning. On the western side, a deep culvert controls stormwater.
With Kailee unbuckled, the driver lost control because of his speed and dipped the tires into the steep drainage ditch. The Chevy Tahoe slammed into the edge of a driveway built across the ditch, sending it somersaulting end over end.
The other three teenagers in the car had only slight injuries. "The girl in the back seat had a scratch on her head," David Mills said.
The Millses were close by at a holiday party of their own and encountered the emergency responders. They got out of their car and took off running. Firefighters had to pin David Mills to the ground. He didn't want to see, they said.
Mills erected a metal cross that marks the spot along Rothwood where his daughter died, just down from a baseball field.
From a speeding car, the cross can be easy to overlook. Nathan Goodlette didn't notice it on a hot day in early June, when he breezed past it from his home nearby to his job just down the street — admittedly well above the speed limit. Dangerous Driving David and Wendy Mills lost their daughter Kailee in an October 2017 car accident in Spring, Texas. Media: Godofredo A. Vasquez/Houston Chronicle
Danger, or efficiency?
"I guess it does make me think about it," Goodlette said. "We all just get in our own space. … Now I'll think about it every time I drive by — slowly."
KAILEE MILLS FOUNDATION: Metro, local nonprofit stress teen driver safety
Personal stories and statistics reveal what is often at the root of Houston's growing fatality count: a pervasive, ingrained culture of speeding.
"The striking thing is how fast people drive," said Dr. Chip Routt, an orthopedic trauma surgeon with Memorial Hermann Hospital, who spent years handling ER patients in Seattle. "I thought I had a good barometer of violence and trauma until I came here."
Speeding is a dominant and destructive element in a wide range of crashes where other factors are at play. Speed plays a role in 44 percent of accidents in Texas in which a vehicle runs off the road, according to Texas A&M researchers. In more than one-third of state fatalities where distraction — such as texting — caused the crash, speed also was a factor. A quarter of roadway deaths at intersections included one or more speeding vehicles.
"Very rarely will you have two cars going 20 mph collide and it is a fatality," said Weatherford, of Houston Public Works.
Routt, a nationally recognized trauma surgeon who specializes in pelvic injuries, said in his years in the Seattle area, injuries from vehicle collisions were less severe, which he attributed to lower speeds in crashes.
MORNING REPORT: Get Houston's top stories delivered straight to your email each morning
High speeds are common on sleepy residential streets and some of the region's widest freeways. Nearly anywhere people travel, many simply go as fast as they can, drivers say.
Westbound along the Grand Parkway from Rayford Road to the Hardy Toll Road — one of the newest sections of the two-lane tollway — most drivers are traveling far above the 70-mph speed limit. For 2017, the average speed rarely dropped below 70 mph, according to data compiled by Houston TranStar, the agency where state and local transportation officials and police monitor traffic conditions. For most of the day, the average speed hovered near 80 mph.
Farther west, where the speed limit increases to 75 mph, drivers also accelerate. From Texas 249 to Shaw Road, a space of less than a mile, the average speed soars to roughly 85 mph for much of the day, based on 2017 data.
Some drivers call that efficiency.
"That's what it is built for," said Jules Estes, 46, who drives the tollway daily to and from his home near the Grand Parkway and Mueschke Road to his job in The Woodlands. "That's a safe speed to me for there. Am I doing that in my neighborhood? No. But that's why they build the tollway like they do."
Others worry that the constant need for speed has made Houstonians numb to the ramifications.
The factors that contribute to the carnage boil down to a choice. The choice to wear a seat belt. The choice to drive more calmly and with less aggression. The choice not to follow the masses and to slow down.
"The public needs to understand the cost of … being able to drive fast," said Crossley, formerly with Houston Tomorrow, who is currently researching Texas' roadway safety standards. "People take for granted that it is a trade-off."
ROAD RULES: Texas traffic rules you're probably not following
Why do they speed? Many drivers say because everybody else is going fast and they don't want to be a "rolling roadblock."
"It's just who we are," lifelong Houstonian Bob Reynolds, 52, said as he filled up the tank on his minivan off Interstate 69 near Shepherd.
Others simply don't believe in speed limits. For many in Texas, freedom means taking responsibility for yourself, not enacting laws to make everyone comply. The state was one of the last to adopt a texting while driving law, out of concern from state officials — notably then-Gov. Rick Perry — that the law contributed to the creation of a "nanny state."
Many consider speed enforcement by cities more a source of revenue than a commitment to safety.
Speeding is so pervasive that others go to great lengths to avoid freeways, and adjust their travel to low-traffic times or avoid travel altogether in metro Houston. Routt, who returned to the area in 2013 and works in the Texas Medical Center, grew up in Chappell Hill near Brenham. When he turned 16, he recalled, his mother handed over the Houston driving duties to him.
"She didn't want any part of driving around in it," Routt recalled.
Transportation officials cite an often-used federal statistic: Nine out of 10 wrecks are tied to poor decisions.
'Scared to drive'
"We can tell people to slow down, take it easy, drive safe," said Larry Krantz, police traffic services program manager for TxDOT, based in Tyler. "I go back to my 21-year-old self and say good luck with that."
Wendy Mills doesn't have to think back to her younger self. It's her daughter's crash, still fresh from Halloween, that travels with her on Houston's streets.
"I'm scared to drive," Mills said, noting her trips into downtown Houston for meetings with a support group for families of those killed in crashes. "By the time I get there, I am gripping the steering wheel so hard my knuckles are white."
T-BONED: Enforcement to increase on Texas 249 due to speeding concerns
They were always aware of the craziness on regional roads. But the crash and the Millses' work with a foundation they established in memory of Kailee have increased their connection to roadway risk.
"You could be the best driver in the world, and it won't matter," David Mills said.
Wendy and David acknowledge that their daughter made a mistake by not wearing a seat belt. For that reason, they don't blame the 16-year-old driver, who was charged with speeding and for not having a seasoned driver in the vehicle. As difficult as it might be at times, Wendy said she can forgive and move on.
"I want to be involved with these kids," she said. "I feel I get a piece of Kailee."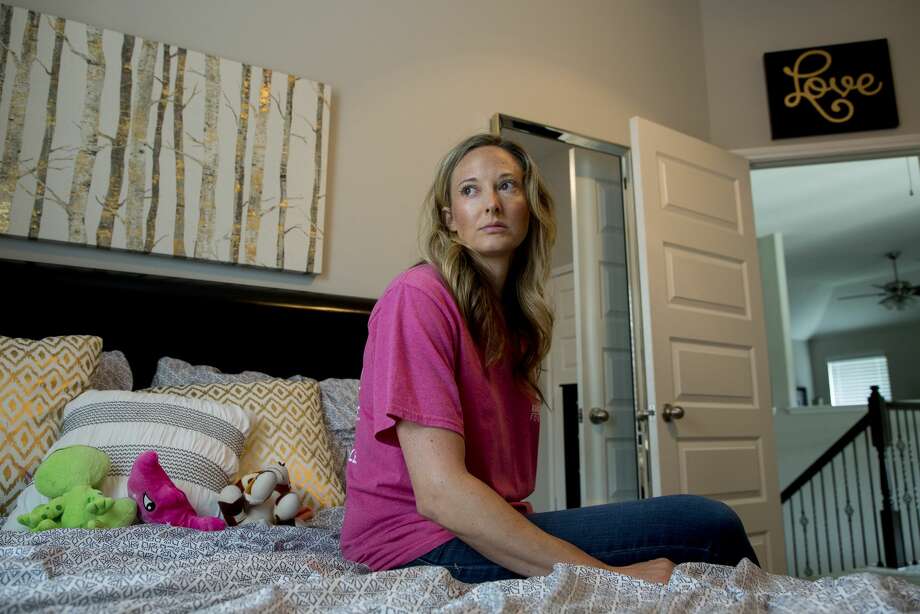 Photo: Godofredo A. Vasquez/Staff Photographer
Wendy Mills, and her husband, David, have kept Kailee's room untouched after she was killed in a crash last October on Rothwood Road in Spring, Texas.
Traffic crashes often seem isolated, showing up in the newspaper or on the evening news one at a time, but they share striking similarities, including the places where speed is the most common cause of a crash.
Of 956 fatal crashes in Harris County and surrounding counties involving speeding during the past eight years, only 43 were inside Loop 610, the densest part of Houston, according to state crash records. Most of those were on either Interstate 45 or Interstate 69 during late-night hours.
Or they were on state-maintained highways where people are accustomed to high speeds, even as use of those roads rises because of nearby development, such as Texas 249 north of Tomball. It has swelled from carrying about 27,000 vehicles per day in 2010 to more than 42,000 in 2016.
It was along that stretch that Aaron Johnson, 22, lost control of his Pontiac G8 on May 7, 2017. Johnson was headed south on the major three-lane thoroughfare with a posted speed limit of 60 mph. He was going between 70 and 80, depending on whom police asked later that night.
GRAY MATTERS: Why write another op-ed about another fatal crash in Houston?
Up ahead, Johnson saw a car pull out onto 249 and knew he wouldn't be able to stop, he told investigators. He struck the curb, and the Pontiac launched into the air and rolled over and over through the open, green meadow.
His stepbrother, Dustin Parmely, 19, a freckled high school football player who dreamed of joining the Marines, was killed in the wreck.
Parmely's mom, Charlotte Brown, calls him "my big guardian angel." She misses him every day, she said. She even misses him teasing his little sister.
Brown said there have been other crashes off that road in recent years, near an old mobile home park. The wreck that killed Parmely was the second fatal crash at that intersection since 2015, out of 27 wrecks.
It's not surprising, said her boyfriend, Clarence Daley, since the street is so wide and people drive so fast.
"It's 60 there and three lanes."
Speed-related crashes are far more prevalent in suburban areas. In the city, a startled driver is more likely to see someone zip through an intersection, sometimes when the light is already red.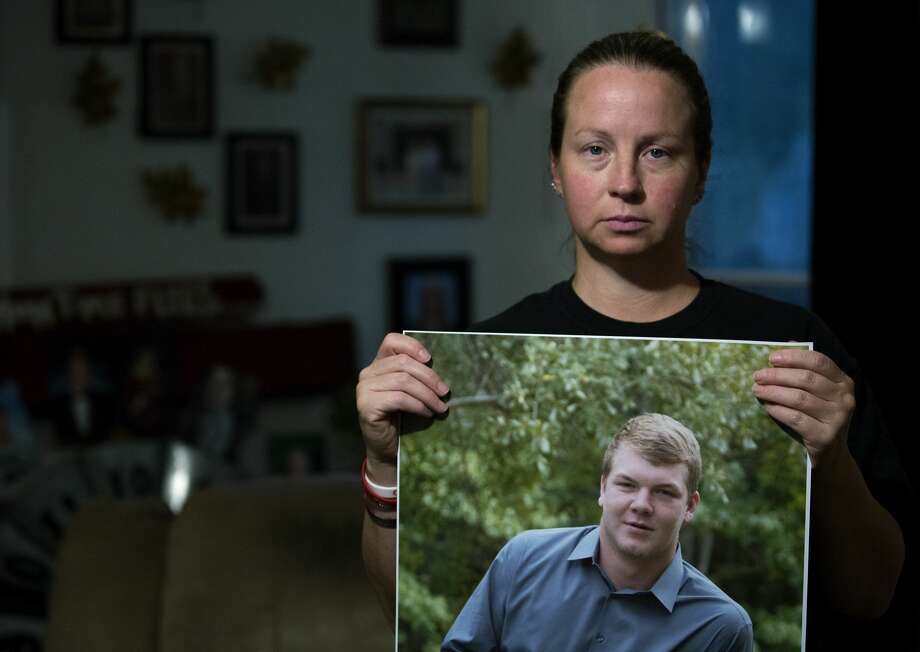 Charlotte Brown holds a photograph of her son, Dustin Parmely. (Godofredo A. Vasquez/Staff Photographer | Houston Chronicle)
Population up, tickets down
"If the light turns green, the first thing you do is look to your left and look to your right," Weatherford said. "Then you go."
Houston drivers likely speed, at least in part, because they believe no one with authority is paying attention.
A Chronicle analysis of municipal court data shows that Houston-area law enforcement's largest agencies are deploying fewer officers for road enforcement and ticketing fewer drivers, even as fatalities increased in the past two years and the area grows in population.
Houston police officers ticketed 41 percent fewer drivers in 2017 than they did in 2012, even as the number of vehicle miles traveled in Houston grew 23 percent.
That reflects a national trend of less traffic enforcement, according to Hersman, the former chairwoman of the NTSB. Federal statistics show that the share of people coming into contact with police through a traffic stop dropped about 11 percentage points from 2002 to 2011.
"We certainly understand what law enforcement is being asked to do and what they deal with, but the reality is fatalities are going up on our roadways," Hersman said. "What we are seeing nationwide is law enforcement is not doing traffic enforcement."
In Houston, 11 fatal wrecks, 12 deaths: An average weekWe set out in early June to learn more about why driving in Houston is so deadly, reporting on each fatal accident for a week. Explore our interactive map here.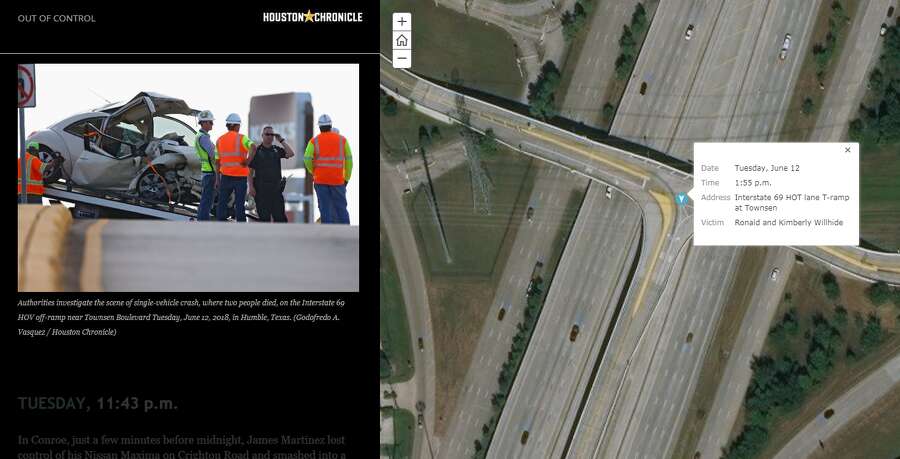 Harris County sheriff's deputies, for example, issued 28 percent fewer speeding tickets in 2017 than they did in 2015, even though the county gained 100,000 people during that period. Houston police officers issued 16 percent fewer speeding tickets in 2017 than in 2015. Texas Department of Public Safety Troopers operating within the greater Houston region are the exception; they issued 11 percent more tickets for speeding than they did in 2015.
Elsewhere, the numbers aren't much better: The Dallas Police Department issued 13 percent fewer speeding tickets in 2017 than it did two years previously — and in Atlanta, tickets declined by 48 percent during that same time period.
These cities are ignoring an important tool for curbing crashes, experts say.
Greg DeAngelo, an economics professor at Claremont Graduate University who consults for Houston police, looked at the impact of a 2003 budget crisis in Oregon that led to 35 percent fewer state troopers patrolling state roads. The study, which attempted to directly address the question of how much traffic enforcement impacts roadside safety, found the layoffs led to dramatically reduced citations that the authors said "strongly correlated" with a 17 percent rise in highway fatalities and an 11 percent rise in highway injuries.
REPORT THE PROBLEM: Want to see Houston drivers slow down?
DeAngelo said he and his co-author saw a "sizable decrease" in safety on roads in conditions that would normally not be treacherous to drive.
"The thing that used to keep drivers in check was police, but when you remove those, you've removed a significant concern for drivers who might otherwise drive recklessly," DeAngelo said. "We see those areas becoming more dangerous."
In a study published in 2015, Dara Lee Luca, an economist with the public policy institute Mathematica Policy Research, examined years of ticketing records from Click it or Ticket campaigns in Massachusetts and found that for every 1 percent increase in tickets issued, crashes fell by a corresponding 0.28 percent. Injuries fell by 0.17 percent.
"You can see a causal relationship between the number of tickets given and the number of traffic motor vehicle accidents and injuries," she said. "As unpopular as (tickets) are, they're effective."
In the Houston area, however, records show that at any given time, a small percentage of officers are enforcing traffic laws across a region with a population larger than most states.
Houston's police department remains at approximately 5,200 officers, near its lowest levels in 20 years. Staffing records show approximately 150 officers assigned to its Traffic Enforcement Division — 10 fewer than were assigned to the division in 2009.
Outside consultants advised HPD in 2014 to reorganize the traffic division and reassign 33 of its officers. HPD would not say if it acted on that recommendation.
Police Chief Art Acevedo, who took over the department in 2016, said enforcement is "important in terms of correcting behavior" but that the department must juggle traffic enforcement with other necessities.
"Traffic enforcement is a way to save lives and reduce violent crime," he said. "One of the challenges, if you think about resource allocation — we're just a lean police department."
OPINION: Houston needs safer streets. We also need better drivers.
The situation is similar — or worse — at other large departments. At the end of 2017, the Dallas Police Department had 62 of its roughly 3,000 officers assigned to its traffic section, 18 of whom were devoted to traffic enforcement. That's 17 fewer than in 2015.
In Phoenix, a police department of approximately 2,900 full-time sworn personnel, 57 officers are assigned to the department's traffic unit, according to department records. Of those, 25 officers and sergeants focus exclusively on traffic enforcement, said Lt. Patrick Hofmann, who oversees the unit. The group also uses a mixture of red-light cameras, speed enforcement vans and targeted enforcement programs in areas where pedestrian fatalities are more common to try to curb bad driving.
After years of staff shortages, the department is putting more officers back on traffic patrols, he said.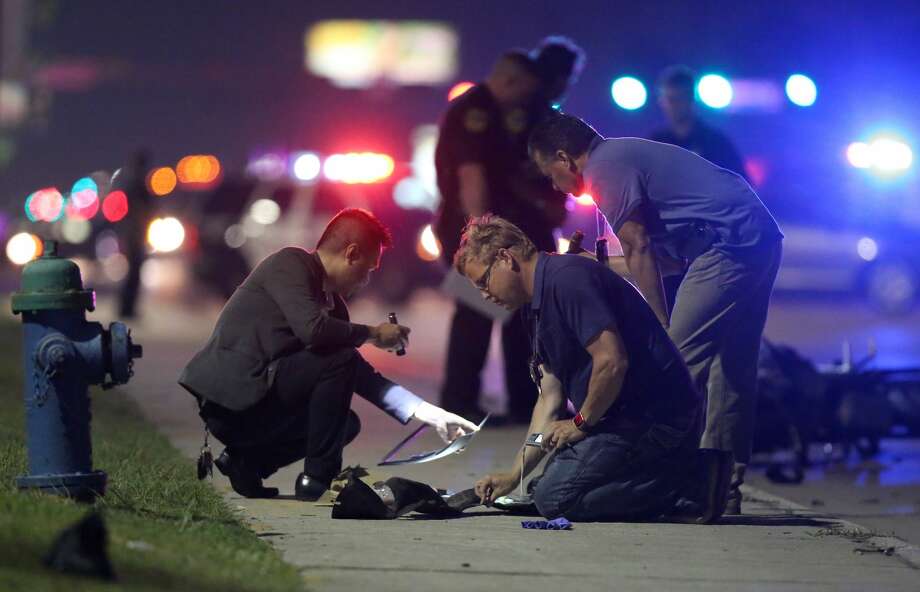 Authorities investigate the scene of a motorcycle and vehicle crash on Westheimer Road near Eldridge Parkway in Houston. The man driving the motorcycle died. (Godofredo A. Vasquez/Staff Photographer | Houston Chronicle)
"Speed is our biggest challenge," Hofmann said. "We target speed. Speed kills."
As they place fewer eyes on speeders, police tout targeted, data-driven attempts to increase enforcement without added manpower.
HPD officials point to a new program launched in spring 2017 that targets areas with a history of frequent, serious wrecks.
Houston Police Capt. Kenneth Campbell said the traffic division launched an initiative in 2017 that involves analyzing where wrecks involving serious injury or death occur and what causes them, then targeting the underlying problem, whether it is speed or red-light running.
"We're focused on quality, not quantity," he said.
The strategy is working, HPD officials said, pointing to a 15 percent decline in fatal accidents within the city limits year-to-date compared to last year.
Houston's dangerous intersectionsTen intersections in the Houston area all carry a large amount of traffic, but also often are the scenes of crashes where speed and the intersection's turning movements are a factor. Two smaller intersections, meanwhile, have had two fatal crashes where speed was a factor.https://www.google.com/maps/d/embed?mid=1ZFS99CyPzDOeMvQU9Vdd_BsQepS7JZeVSource: Chronicle analysis | Created by Dug Begley
Campbell gave officers in the traffic division printouts of the deadliest highways and intersections in the city limits.
Danger zones included Interstate 45, where officers frequently identified speed to be a major contributing factor in fatal wrecks, and major arteries through the city, such as Richmond Avenue and Westheimer Road.
GRAY MATTERS: It's never been easier to drive safely. Why are there so many crashes?
Houston police officer Aaron Richberg reached up to the visor of his Chevy Tahoe last summer and pulled down three folded sheets of paper with the locations and causes of recent fatal accidents.
"Failure to control speed" was among the top causes.
Richberg approached the intersection of Westheimer and Kirkwood roads as a black-and-white Dodge Charger and a red Nissan started to race.
"Right in front of me?" he said incredulously, flipping on his flashing lights. "That's ridiculous."https://e.infogram.com/b44e96b6-1062-4644-977b-ac91f470665c?src=embed#async_embed
***
About the series
This is the first of an occasional series that explores why the Houston area is such a dangerous place to drive.
Next, later in September: Driving drunk and drugged.
Tell us your story
Have a story about a dangerous speeder, a drunk driver, or an accident you witnessed? Want to weigh in on the design of Houston's roads, or a driver who just wouldn't stop texting? Have thoughts about making the region safer for pedestrians or cyclists? Share your story using this form.
---
Staff writer Susan Carroll and data editor Matt Dempsey contributed to this report.
Dug Begley is the transportation writer for the Houston Chronicle. Contact him atdug.begley@chron.com. Follow him on Twitter @DugBegley.
St. John Barned-Smith joined the Houston Chronicle in 2014 and covers public safety and major disasters. He has worked on two teams named Pulitzer finalists in recent years – for covering Hurricane Harvey and for helping show how Texasunlawfully denied education services to children with special needs. He previously reported in Philadelphia and Maryland and spent two years in the Peace Corps in Paraguay. Follow him on Twitter or email tips tost.john.smith@chron.com.
Godofredo A. Vasquez is a staff photographer for the Houston Chronicle, primarily covering breaking news. Godofredo was born in El Salvador but grew up in the Bay Area, where he attended San Francisco State University and graduated with a B.A. in Photojournalism. Before joining the Chronicle in early 2017, Godofredo spent two years working for the Corvallis Gazette-Times and the Albany Democrat-Herald in Oregon. Follow him on Twitter and Instagram at @godovasquez, or reach him by email at godofredo.vasquez@chron.com.